Your Monthly Forecast
All the latest monthly forecasts, organized by sign.
Age of Aquarius
Susan Miller's astrological predictions for a new century.
Current Trends
Find out the planetary trends that might be influencing you today.
---
Taurus (April 20- May 20)
Your May Horoscope by Susan Miller
Your partner will be your full focus at the full moon, May 3 in Scorpio, 13 degrees, as the month opens. This full moon will be in lovely angle to graceful Neptune, so you may be invited to a beautiful party or have a very romantic episode with your one-and-only. Neptune will be in an ideal angle too, bringing inspiration and in a beautifully romantic vibe. You may promise to be exclusive, or get engaged or married. Mercury will be opposite Saturn, so you'll mean what you say - you won't change your mind. Saturn urges long-term planning, and certainly, you will be thinking about your life in years ahead.

If you are already in an established relationship, you may now give your partner much more attention. You may hear news now from your partner on this full moon, and it would be news that would affect you both. Pluto will be perfectly angled to the full moon (although a little too far to be a real aspect), but it seems to me you may go on a distant, exciting trip together early in the month too. It may be...
To view a forecast, select a sign from the menu below and click on Go.
---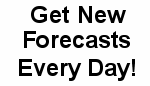 Click here to get your daily forecast
direct to your email or PC.


Fluffy Down Bedding,
Comforters and Pillows
Hosted by: