Your Monthly Forecast
All the latest monthly forecasts, organized by sign.
Age of Aquarius
Susan Miller's astrological predictions for a new century.
Current Trends
Find out the planetary trends that might be influencing you today.
---
Taurus (April 20- May 20)
Your April Horoscope by Susan Miller
As the month opens, with four heavenly bodies crowd into your twelfth sector of privacy, you will need rest. You've been operating at record speed, and it's time to slow down and think about your birthday year ahead. What would you like to accomplish by this time next year, dear Taurus? The ancient astrologers always spoke of the wisdom of taking the time to think about all you'd like to do.

The new moon of April 7 in Aries 18 degrees will set off a trend of encouraging you to look ahead, as well as inside - both! Look inward to decide what would satisfy you and then choose one area to make changes in that part of your life. You'll be quite creative in your thinking, as Uranus will be conjunct the Sun and be friendly to the new moon, sparking original ideas that never before occurred to you. This new moon will be in perfect angle to Saturn, a stabilizing, comforting influence. Saturn's presence also suggests that the decisions you make now will stay in place a long time, and that's a good sign. This is important - your actions will...
To view a forecast, select a sign from the menu below and click on Go.
---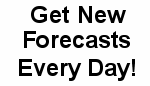 Click here to get your daily forecast
direct to your email or PC.

Hosted by: